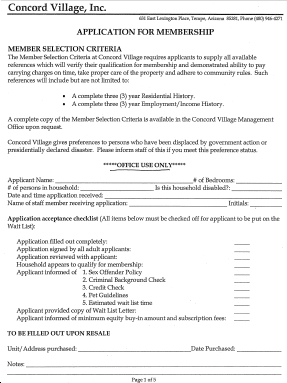 We do not sell or rent individual units at Concord Village. Rather, existing members, when they move, sell their "membership," which is a stock certificate entitling the owner to a 1/373rd interest in the ENTIRE Concord Village complex. To own a share of the village, you must be a resident, and vice-versa. Today, memberships are typically transfered for anywhere from $8,000 to $16,000 depending on the size of the unit and the amount of improvements made (we use a valuation table to determine the transfer value). Additionally, there is a monthly carrying charge to pay for financing and common expenses, which is set by the Board of Directors with HUD approval and currently ranges from approximately $340 to $460 depending on the size of your unit and your income.
We maintain a separate waiting list for each type of unit (# of bedrooms, etc). When slots open up on the waiting list, we make them available via a letter of interest and lottery (a sample recent lottery application is below). In most cases, it can take months or even years to move to the top of the waiting list. In some cases, however, people at the top of the list are looking for very specific features in their units (fireplaces, etc), and people further down the list can move in fairly quickly if a unit becomes available that doesn't have the features that people at the top of the list desire.
Qualifying for Membership at Concord Village requires that you meet the following minimum standards:
Family income under HUD limits (as of May 2011, $43,600 for one person, $62,250 for a family of four)
Demostrable income or resources to sustain monthly carryng charges
Pass a credit check, criminal background check, etc
Employment and/or past tenant references
Please call the office prior to find out about current waiting lists, membership requirements, and application processes.