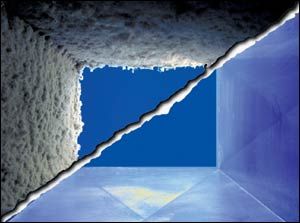 The EPA recommends that you hire a professional to clearn the air ducts in your home at least once every 5-7 years, and suggests that you hire someone who cleans ducts according to the standards of the National Air Duct Cleaning Association (www.nadca.com). Many homeowners in areas that are prone to dust/wind storms, especially those who suffer from allergies or asthma, do a duct clearning every two years. At Concord Village, units with fireplaces or which still have the original doors and/or windows are particularly prone to dust buildup.
Because dust inside your vents is not readily visible, the easiest way to check for build-up in your air ducts is to remove the filter and hold a digital camera inside the cold air return and shoot down the path of the vent with the flash on. To check room vents without removing the vent covers, hold the camera up to slots take another picture in each room.
Just like carpet cleaners, many air duct companies offer a very low advertised price of $50-100, which basically only covers vacuuming out a fixed number of vents, but when they arrive on site, they try to upsell you on other sometimes important services and the price quickly escalates to $300-500. Several CV owners have shopped around and have found a few reputable local companies who offer excellent full-service clearnings with minimal upsells, and some have even agreed to offer fixed prices for thorough clearnings of our Concord Village A/C ductwork, and you will find them in the neighborhood directory.
Between professional cleanings, you can keep the dust levels down in your A/C system just by replacing your filters often. Also, you may want to your vacuum cleaner hose to clean out your cold air returns every time you open them to replace your filters. Also, to keep mold spores from spreading, you may want to sanitize the duct walls inside your cold air return vents (behind the filter) with a natural sanitizing spray.