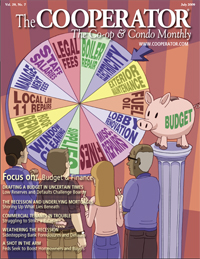 In March 2011, our Town Hall meeting discussed Insurance for our Coops. The following article is from Cooperative Magazine, a free monthly magazine for Coops. We have excerpted this article below with commentary in red which is specific to Concord Village.
Vive La Difference - Co-op versus Condo Insurance
By Meryl Feiner
If an electrical fire destroys your newly renovated kitchen, will your co-op pay to replace your space-age stove and slate countertops? If a pipe bursts in your condo and your $10,000 wallpaper is ruined, who pays to fix it? The answers to questions like these may lie in your building's underlying documents and should be considered when buildings and individual unit owners are purchasing insurance.
Read That Fine Print
"Whether your building is a co-op or condominium may make some difference but the biggest thing is to determine from your building documents what the co-op or condominium association is required to insure," says Thomas R. Kozera CPCU, president and CEO of SKCG Group, an insurance provider in Hartsdale, N.Y. "For example," says Kozera, "who is responsible for replacing a wood floor damaged by a leak? In a condo, it is generally the unit owner." But he adds, in a co-op, it may not necessarily be clear-cut. If owner number one puts in a new floor and it is damaged, it will probably be his responsibility to replace it, but if the unit is sold, depending on what's spelled out in the building's documents, that new floor may become the property of the corporation and they would have to replace it." At Concord Village, our insurance does not cover anything beyond the framing, so the resident is responsible for any damage to walls, flooring, etc.
"It is not always clear in the documents," adds Kozera. "Insurance companies can help, but we are not lawyers; buildings should consult their lawyer for a positive determination. [Governing] documents vary widely and are [often] very difficult to change."
From the Building's Perspective
In terms of types of insurance, Kozera says replacement and perils are essentially the same for both condominiums and co-ops. From the insurers perspective, "Insurance companies in general might view condos as slightly better," says Kozera. "In general there is more risk of financial difficulties in a co-op, which would cause them to neglect maintenance, thus creating increased risk for insurers." He adds that there are only a few firms currently writing co-op and condominium insurance, but that those firms are "extraordinarily familiar with New York City." Because some insurance companies view co-ops to be higher risk than condos, you MUST make sure that you policy is covering a coop and not a condo. Most insurance agents do not even know there is a difference, and since both condo and coop insurance are typically class HO-6 insurance, you could easily get a policy that might not cover you properly. Make sure that your policy spells out that your residence is a Co-op (or clearly covers both).
Buildings, in general are finding that insurers are scrutinizing past claims more carefully. "Buildings with several incidents of water damage may not get insurance because New York State currently does not allow exclusions for mold," says Kozera.
The recent focus of media attention on the issue of mold may spell a headache for co-ops looking to refinance their underlying mortgage. "It's now becoming more common to see banks requiring a "micro/bio-matter" endorsement on policies when refinancing underlying mortgages," says Arthur Schwartz, vice president at Masters Coverage Corp., a Manhattan insurance broker. "Banks want policies that will cover remediation for mold." He adds that mold is not excluded, per se, from basic coverage but more lenders are requiring either a separate policy, or buildings are buying additional coverage. "HSBC, for example, is requiring buildings to apply for specific mold insurance, or to make a representation that it cannot be obtained at a commercially reasonable price," says Schwartz.
For the Unit Owner
Experts note that because most lenders do not require condo unit owners and co-op shareholders to carry homeowner insurance, many individuals wrongly believe they are covered under the building policy. "I'm amazed that unit owners don't carry adequate insurance for themselves," says Kozera. He adds that a good homeowner's policy not only protects the contents of the insured apartment, but helps pay for the resident's own mishaps in the case of fire or water damage due to shareholder or unit owner negligence. If damage results from one unit owner's negligence or mishap, that owner is nearly always responsible for repairing any damages to neighboring apartments. In other words, "It's your responsibility to pay for the Picasso downstairs," says Kozera.
According to Cathy Torres, personal lines manager at Campbell Solberg Associates, a Manhattan insurance brokerage firm, "Generally, it's the same coverage for co-ops and condos. You insure from the studs in. For example, a pipe would be covered by the building, but fixing the wall would be the responsibility of the unit owner."
Torres says a basic policy should cover additions and alterations, personal property, loss of use, personal liability, and loss assessment. Additions and alterations - sometimes called "improvements and betterments" - typically are not covered by a building's policy. So, depending on the building's underlying documents, if your new bathroom complete with marble countertops and swanky fixtures is destroyed by a broken water pipe, the building will likely only be required to restore it to its original form, prior to improvements. Personal property covers all clothing and furniture and other valuables - basically, anything that can be moved. Loss of use covers living expenses if your apartment is uninhabitable due to an insured event. Torres says the amount of loss of use coverage is typically 20 percent of the value of the contents.
Personal liability does not just cover personal injury, says Ross. "In insurance terms, personal injury also includes slander and defamation of character." Finally, the loss assessment clause covers building assessments that arise from an insured event.
How Much is Enough?
Ross says determining the right amount of insurance can be "a sticky wicket." The standard homeowner's policy covers clothing and furniture but does not cover things like fur, he says. High-end items like jewelry, fine art, and furs should be scheduled separately on the policy. Ross adds that unit owners "should consider getting coverage against sewer and drain back-ups, since that's not included in standard water damage coverage." This is an important point. We are in a flood plain here, so you may also seek flood insurance, which is ALSO not covered by water damage clauses in standard insurance policies.
When determining the amount of coverage, especially in a co-op, Schwartz advises shareholders to determine what they actually own - as opposed to what's owned by the co-op. In some buildings, major appliances - even if they're inside private apartment units - are the property of the cooperative corporation.
"The biggest mistake people make it they do not take into account improvements like built-ins and remodeled kitchens and baths, which are quite costly to replace," says Schwartz. He advises that these items should be itemized on that property coverage policy. Itemization of all improvements made is critical, because most policies will not replace what they do not know about.
Be Proactive
While the differences between insuring property inside a co-op versus a condo are not huge, it's important for homeowners to have a working knowledge of their insurance policies - to know what they are covered for, what they're not covered for, and what falls under their building's umbrella policy. Industry experts advise buildings and individuals to periodically review their coverage to ensure that they are adequately protected - especially following renovations and improvement projects or major purchases. The chances of a flood or earthquake on the Upper West Side may be relatively remote, but a solid policy and a familiarity with it insures that you don't have to worry either way.
Meryl Feiner is a freelance writer living in New York City.
Created: 12 March 2011
Updated: 12 March 2011