Area Hot Spots Blog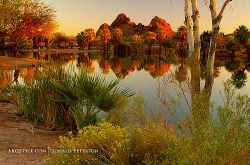 Papago Park is a 1200 acre hilly desert park located about one mile directly West of Concord Village, and is the home to several of Phoenix's most visited natural playgrounds, including the Phoenix Zoo, the Desert Botanical Gardens, and Hole in the Rock. The park is sandwiched in between two public golf courses, the Rolling Hills Golf Course to the South and the Papago Golf Course to the North. Climbing up to Hole in the Rock for the best birds-eye view of Phoenix is a must-do for visitors to Phoenix, and visiting the Zoolights and the Desert Botanical tealights parade during Christmas is an annual tradition for many families. A family-friendly map of the Papago park is available for download as a PDF from the City of Phoenix.
Phoenix Zoo -
Desert Botanical Gardens -
Hole in the Rock -
Papago Ponds Picnic Area -
Hunt's Tomb -
Rolling Hills Golf Course -
Papago Golf Course -
Papago Park Lagoon - While the main portion of Papago Park is in Phoenix city limits, a small corner near the Papago Lagoon is actually a Tempe City Park, with volleyball and basketball courts, a huge playground, and three reservable ramadas that accommodate from 32-64 people each.
Papago Dog Park - At the Southern end of Tempe's Papago Park is the Papago Dog Park, which is the closest Dog Park to Concord Village.